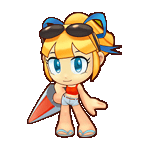 VacationRoll
"It's great to get away from the grind and while away the hours on a beach!"
Mega Man's "younger sister". Adored by all, she assists Dr. Light in his research and helps keep everything clean. She's strong-willed, detail-oriented, and has both feet on the ground!
Complete Roll Compendium Coming Soon!