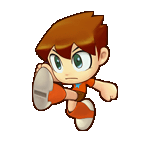 Rock
This helper-robot of Dr.Light uses kicks to attack enemies!
Originally created by Dr.Light to help with chores around the research lab. After the evil Dr. Wily's visit, Rock's sense of justice was burning hot, and he begged Dr. Light to let him fight. Rock possesses a gentle personality and is kind to everyone he meets.
Complete Rock Compendium Coming Soon!