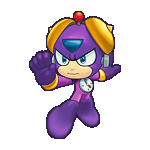 TimeMan
Experimental robot created by Dr.Light to enable time travel. Can slow down time briefly!
TimeMan, while an awesome little robot, is actually one of the easier fights.
TimeMan runs back and forth across the span of his boss-room while shooting the three-way Time Arrow projectiles and slowing time to make things harder for you.
Stick to the extreme sides of the stage to avoid collision with TimeMan (he doesn't like the sides) and jump when he uses his Time Arrows on you. Time Slow isn't much of a threat - use it to your advantage as having the battle in slow motion is easy to get used to and provides for extra time to plan your next move.