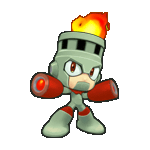 FireMan
Previously worked at a waste management facility, wielding super-hot flames that reach 7000-8000 degrees. If the flame on his head goes out, he looses his power!
FireMan's Fire Storm is normally easy to jump over, but when FireMan uses it from the air it becomes extremely difficult to avoid and you should expect to take damage in this battle.
FireMan can also send Fire Towers toward you that erupt from the ground while while the Ice Slasher can freeze these, they provide a threat if you aren't so lucky. FireMan requires good timing, pacing yourself, and jumping over him when he runs at you so you can hit him in the back of the head.
Keep at it and
he'll
be the one that's really cookin'.