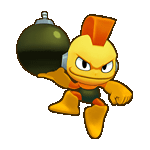 BombMan
Worked with Guts Man to develop land. Skilled in handling explosives, his powerful specially-made bombs can blow just about anything to smithereens!
BombMan is one of the harder foes to pin down one specific strategy for because he moves around so much! However, even considering that he's still a rather easy robot to take care of. The only real strategy to give here is to run around and shoot him - jumping over his bombs when you need to.
BombMan's Hyper Bombs can do a bit of damage and explode either on contact with you or a few seconds after they hit the ground (and possibly bounce if close to a wall). Just watch for the bombs while continuously shooting at him and you'll be fine.